At a Glance
Coming this Thursday (March 11th) we're pushing a new catalog integration update for WORLDPAC. This new update includes more products, more product information, and better image coverage across all of WORDLPAC's catalog. Also, PartsTech will now display aftermarket manufacturer numbers first instead of "WP numbers". Read on for a more in-depth look at what changes are coming.

By the Numbers
WORLDPAC has provided us with a massive update! Here are the stats...
839% increase in product images
63% more vehicle fitment records vs. the previous update!
31% more products in results


"What does this mean for me?"
Simply put, this new update means more results, better product information, and better part number visibility when you search for parts from WORLDPAC on PartsTech.

More Manufacturer Part Numbers
With this new update, you'll see the aftermarket manufacturer's part number first and foremost. You'll still see the WORLDPAC "WP number" in the display, but it has been moved to a secondary position. See the image below for an example of how they'll appear on site.

If you are using PartsTech with your shop management system the manufacturer number will be the number that feeds into your RO.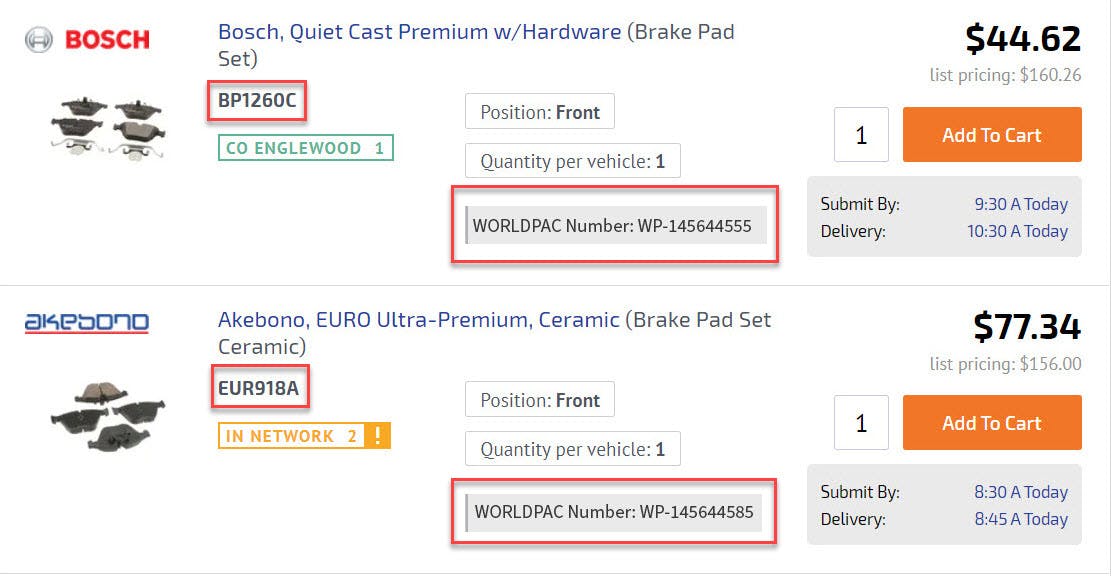 A Deeper Dive...
As you know WORLDPAC is one of the more complex integrations on PartsTech. WORLDPAC employs a different set of part numbers called "WP numbers" across their entire catalog. Each "WP number" maps to a corresponding manufacturer number for any given product. We work very closely with WORLDPAC to make sure our 2 systems can communicate effectively and show customers comprehensive results comparable to WORLDPAC's own speedDIAL product. Recently WORLDPAC provided to us a catalog update that allows PartsTech to show you more products, more images, and better part number visibility on site.
Looking Ahead
We're constantly working to build the best parts ordering system for repair shops. period. We will continue to work closely with WORLDPAC as well as our other vendors to make PartsTech faster, more comprehensive, and more accurate. That's our commitment to you, our customers.

If you have any questions, comments, or concerns please don't hesitate to reach out to our customer support team at support@partstech.com or by phone at (866) 308-5193